An essential part of the support staff in Midtown are the bus drivers, who are responsible for ensuring that students get to and from school safely.
"Some of the most important and dedicated people at this school right now are our bus drivers," Vincent said. "They have a huge responsibility to make sure all of our students get to school safely, and they've been absolutely wonderful this year. Their work also makes this school much more manageable.
Hundreds of students rely on Midtown bus drivers every day to get to and from school, making the job of the bus drivers extremely difficult.
"The bus is my primary means of transportation to and from school, and it's been a staple of my life since sixth grade," junior Jonas Loesel said. "I'm grateful for buses and bus drivers, and it's a nice convenience."
Difficulties, including drivers facing the ever-present threat of Covid-19, have created inefficiencies in morning and afternoon bus schedules and routes.
"Sometimes the drivers don't show up to school, and when that happens, kids are sometimes stuck for hours with no way to get home," Vincent said. "These situations forced us to improvise, with teachers and staff sometimes having to drive the buses. From what I've seen, a big part of the reason they're not showing up is because of Covid stress and other issues this school year.
The students were frustrated by this situation.
"I've been taking the bus since the start of this year," rookie Nyhila Silva said. "During this period, there were many times when buses did not show up or showed up an hour or more late. On those occasions, I was stuck in school until my parents could pick me up. I also have a lot of friends who are stuck at school because their driver didn't show up.
The situation has also forced some bus drivers to cover the trips of the driver who did not show up.
"It's really inconvenient, and in my opinion, it's not very responsible when bus drivers don't show up, and I had to cover their shifts," said the Midtown bus driver, Edward Reaves. "I've walked these routes many times, and that means I have to do extra work just to make sure the kids aren't stuck in school."
Midtown bus driver Quindrica Byrd said bus drivers in the district have also had to adapt to major adjustments since in-person school and the need for bus drivers resumed.
"Last year, I wasn't really needed as a bus driver, and when I got called up this year, I didn't realize how much harder it would be," Byrd said. "This year with Covid it was much more difficult for children and bus drivers like me. We were all required to wear masks and I had to deal with a whole bunch of other issues as well. In my case, I am also studying for my bachelor's degree; so, all of this along with my studies has made this year incredibly difficult for me.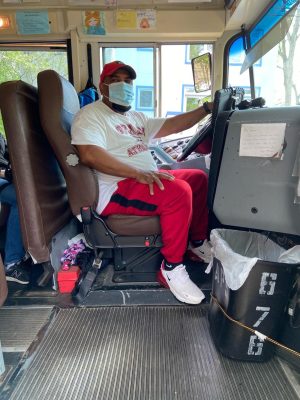 While there were issues to address, there was one major positive for bus drivers this year: the behavior of Midtown students on their buses.
"Students have behaved wonderfully this year, and we haven't had any major incidents of students misbehaving like we've had in previous years," Vincent said. "Since from what i heard from the drivers, our students were extremely respectful and i am really proud of them for representing our school in this way.
Students also had to adjust to a new reality on buses due to the school district's transportation mask mandate.
"Most people are very good at wearing masks, but some aren't," Silva said. "It's really good that everyone is following the mask-wearing protocol on the buses, and it made me feel safer on the buses this year."
The general behavior of the students on the buses and their adherence to mask protocol has made this a pleasant year for Byrd.
"I've been driving for Midtown for three years, and this year has been my best and my favorite yet," Byrd said. "The students behaved very well on the buses and I had no discipline problems this year. I drive for other APS schools and have had dozens of serious disciplinary cases, but the kids in Midtown have been exemplary.
Although the bus system has had several ups and downs this year, administrators are hopeful that the system will start to run more smoothly.
"Hopefully next year we can get back to a more stable process like we had before Covid," Vincent said. "Buses are an extremely important part of life for hundreds of students, and it's our job as administrators to make the system as efficient as possible."